Real Estate Data Scraping Services
Are you looking for Real Estate data scraping services? We can help you monitor the market with ease. Our web scraping services can gather data on listings, agents, brokers, estate agents, houses, apartments, mortgages, foreclosures, MLS, FSBO, building permits, repair and construction permits, electrical and plumbing permits, recorded deeds, and county-level data. You can integrate the data into your systems or receive e-mail alerts for quick access.
We also offer data-gathering services for urban planning, transportation, communication, and distribution networks. This can improve connectivity and ensure optimal utilization of resources in the city.
Our services are available in the USA, UK, Australia, Germany, Canada, and UAE. Contact us today for more information!
Get Started Now
Examples Of Real Estate And Housing Data That We
Provide
These are just some examples of real estate and housing data that we can provide, there are countless other sources and types of data that we can gather just for you
Real Estate Market Data
Monitor the real estate market across the country and decide the best time to buy or sell based on data.
Property Valuation Data
Get accurate property data for real estate valuation. Gather information about properties and their valuations from Federal, State or County level websites.
Urban Planning Data
Building and upgrading existing cities to smart cities requires population, traffic and resource data to provide efficient solutions.
Crime and Safety Data
Ensure the safety of your investments, property and personnel by analyzing crime data prior to investing.
Real Estate Investment Data
Monitor what customers are saying across different platforms without having to visit all websites. Make customer relations efficient by harnessing the power of data
Store Expansions
Gather data about rent, demographic and population data to expand retail and e-commerce businesses. Help that drive better investment decisions.
Artificial Intelligence (AI)
We use the latest technologies such as Artificial Intelligence (AI),
Natural Language Processing (NLP) and Machine Learning (ML) to
gather and analyze real estate and housing data to provide creative
and custom solutions that are tailored to fit the exact needs of our
customers
How To Get Real Estate Property Data
Identify Real Estate Data Sources
Give us details about the data (text, image, documents) you would like to gather and the websites where we can find the data. Our data experts can help you finalize websites and data that would fit to your need.
Gather Data Using Web Scrapers
Based on your requirements we will gather data, perform quality checks and provide you the final data in its raw form or clean it to ensure that all you have to do is load the data into your systems.
Schedule Web Scrapers
We can schedule the data gathering to ensure that you receive latest data to keep your systems updated.
Types Of Web Scraping
Depending on your requirement and expertise level you can choose any one of the following web scraping methods to get started:
Updated

We provide you real-time real estate data that you can rely on, while making important investment decisions. No recycled or preexisting data sets that are outdated and full of stale data

Unique

The scraped real estate data you receive is never going to be same as your competitor's or data that you buy from existing providers. We are a custom data provider that provides unique data only to you

Custom

We provide you customized data sets based on your exact business requirements. Our team is always open to having a conversation and discussing customized options with you
Privacy And Legal Compliance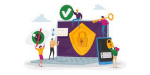 Customer Privacy
Our customers range from startups to massive Fortune 50 companies and everything in between. Our customers value their privacy, and we expect you would too. They trust us with their privacy and as a result, we don't publicly publish our customer names and logos anywhere. We promise you your privacy and guard it fiercely.

Compliance and Legal
We will work with compliance and legal groups throughout the whole process to ensure that you are in compliance with all regulations and adhere to internal risk and controls processes.